To celebrate Women's Day, I got myself a gift in the form of a trip to BMW Plant Berlin, organised by BMW Dobrzanski in Krakow. Berlin is where they make motorcycles. I wanted to see the environment, where my future bike would be born, look into their know-how, see if they have lean and how they manage it. I gave myself one more challenge: what would I improve and where do I see shortcomings?
A few facts:
The beginnings were not so noble: the factory was built in 1830 and produced gunpowder for Prussian army.
In 1923, the first BMW R32 motorcycle came off the line
From 1949, this Berlin factory has been producing motorcycle engines.
In 1980, the quarter-millionth motorcycle rolled off the line and the first dual-purpose all-road motorcycle was created
In 2011, the two-millionth motorcycle left the Berlin factory
Despite the deep crisis, BMW's share of the motorcycle market has increased and BMW is currently number one in the world.
All the bikes are produced in Berlin, yet there are three motorcycle factories. What's going on? Motorcycles are assembled in Berlin, then disassembled and sent in pieces to a plant in, let's say, Brazil, where they are reassembled. This is a method of avoiding duty costs, which saves BMW a bundle! Interesting, albeit not lean.
BMW lives lean, or rather their own version of lean:  WPS (Wertschöpfungsorientierten Produktionssystems)
You can see lean the moment you walk in, you're struck by the cleanliness despite a "dirty" production, visual boards, calm and relaxed production crew. Everything is color-coded for easy navigation. The workers also wear different colours of BMW overalls, depending on their function that day.
Annual production is nearly 119 thousand motorcycles
The plant currently manufactures 30 models of motorcycles (including scooters)
During one shift (8 hours), 300 machines are produced, so the beat time is 1.36 (that is, every minute and 36 seconds a finished bike rolls off the line)
Lead time, that is the time a customer must wait for delivery of an order at their dealer is approximately 3 months.
Taking the logistics costs into consideration, motorcycles are produced in batches of 4 – and even those differ with equipment, etc.; 4 most similar orders are batched together.
BMW produces only bikes that are already sold. That means that every BMW bike, from birth, has a client awaiting somewhere in the world.
BMW has high standards
And those can be seen everywhere, even in a toilet.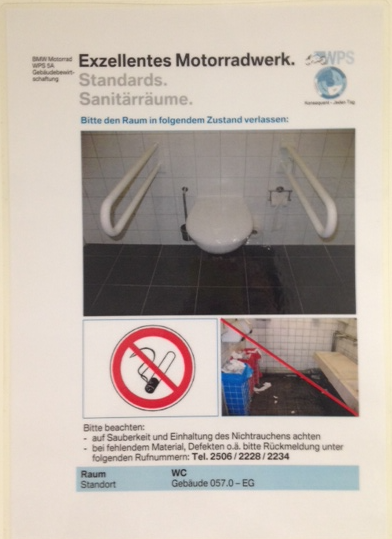 BMW takes care of their employees
Each worker is multi-functioned and trained for at least 5 different positions. Altogether, there are about 70 positions in production to choose from. Workers rotate positions every 2 weeks. It prevents boredom and routine that generally contribute to making mistakes. Also, everyone can be quickly replaced in case of illness or termination.
Next to each line, there are boards called Trainingsplatz, for quick training.
A worker, who is on a break, can use the activity room (games, conversations, etc.) or the quiet room (where he/she can take a nap or meditate)
For workers to enjoy softness under their feet, production lines are covered with mats. The cost of such mats for one line is 20 thousand Euro.
Workers actively participate in improving their work. There is a system of gathering and verification of suggestions for improvement.
The motorcycle industry is highly seasonal, with a sharp increase of demand that starts in the spring and lasts 6 months. Workers have 200 hours of overtime to use in 3 months.
Since the factory is sizeable, to save workers time in going to the cafeteria, special catering carts bring the food to the entrance during breaks.
BMW supports all forms of physical activity and cares about the health of their employees. Staircases have signs with calorie meters, so you know how many calories you've burned by the time you reach the boss's office, when summoned.
BMW eliminates waste
Motorcycles on the production line are raised and moved along at a certain height, depending on the phase of assembly, thus eliminating unnecessary bending and poor ergonomic conditions for the workers. No need to crawl underneath the bikes.
Most tools hang on pneumatic arms, accessible – of course – at arm's reach. This way, everything hangs, not rests. The remaining tools hang on shadow boards.
Next to production lines are supermarkets – small warehouses supplying the line with parts
BMW takes care of the client
A Sheik placed an order: he wanted a BMW and it had to be gold. Not golden colour, mind you, but with parts made of gold. The Development department had a tough nut to crack, but finally they developed a method of gold plating the body parts. What was the price? They wouldn't say.
Quality control is present at each phase of production. Any deviation from the norm is caught and corrected immediately.
The most fun phase is the dynamometer test. A worker – in this case, the guy pictured below – in a glass cubicle accelerates the bike to 130 km/h and tests all the gears changes, also slamming the gears without the clutch.
Motorcycles travel along the entire production line without saddles (so they don't get scratched) and without batteries (safety issues), and their tanks can contain no more than 3.8 l of fuel.
What would I improve?
At first glance, there was nothing I could pick on, but I didn't give up and continued searching 😉
I felt the lack of 5S standards and eventually found a few things out of place, not labelled, in strange places. As far as the supermarkets, I didn't see visual inventory controls. That is, when a bin is empty, what do you refill it with and how much? Of course, at first glance.
Oh, and the dynamometer system hung up and we had to wait a few minutes for it to restart. I wonder how often that happens.
All in all, the lines look great, everything is marked and monitored. The motorcycles sail through production and the people appear to be relaxed professionals. I'm sold.